Welcome to Aria
TWIN NOIR – 2 Punks and a tape machine Check out how they perform with Aria Pro II DM-206, & DMB-206. Thank you Twin Noir !!
_________________________________________________________________________




Introducing Aaron Waddingham, the latest addition to the Aria UK Ltd team!

With a passion for music that has taken him from stages to recording studios, Aaron brings a wealth of experience as an accomplished musician.

His talents extend across the spectrum of guitars, he is equally proficient with electric, bass and acoustic guitar, making him a versatile asset to our team.
Aaron's journey as a professional musician spans over two decades, during which he has gained an extensive knowledge of guitars, acoustics, bass instruments, effects, and amplifiers.
He's even ventured into building guitars himself, reflecting his deep commitment to the craft. Aaron's musical repertoire predominantly includes blues, rock, and metal, but he's also explored various other genres through session work.
Currently, he lends his skills to "Pantera 101," a Pantera tribute band renowned as the best in the UK, while also composing his own music.
His abundant knowledge of guitars extends from intricate setups to wiring and pickups, and he has a keen sense of how guitars feel and play across different price ranges.
Please feel free to reach out for any inquiries; and I look forward to speaking to you.
The story of Aria Guitars: the unsung brand that has served metal shredders and jazz virtuosos alike for over 60 years
Aria has a long, proud history, played by the likes of Cliff Burton, George Lynch, Herb Ellis and Andy Summers. Join us as we access all Arias and pay tribute to a slept-on guitar icon.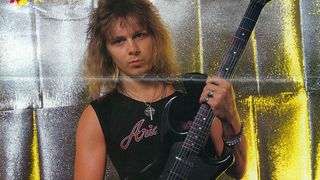 While Aria Guitars might not enjoy the same lofty status as Gibson or Fender in the echelon of guitar makers, its outsider status and unique craftsmanship have certainly made it a worthy contender during the course of Aria's 60-plus years of existence.
Some of the greatest guitarists – from Herb Ellis to Andy Summers, from Yngwie Malmsteen to George Lynch – have, at some point in their careers, brandished one of Aria's guitar models, such as its popular Aria Pro II series. Even in today's highly competitive marketplace, Aria continues to flourish and continues to build upon its innovative spirit.
They say necessity is the mother of invention. In the story of Aria Guitars, necessity is very much central to the company's humble beginnings in Nagoya, Japan, in 1956. It started when talented classical guitarist Shiro Arai struggled to find outlets in his native country where he could buy nylon strings for his classical guitar.
Frustrated by the scarcity, he came up with the idea of importing classical guitar strings from Augustine, a manufacturer in New York City. As word spread among Japanese guitarists and demand for Augustine strings grew, Arai set up Arai & Co. Inc. to cope with the flourishing sales. With the arrival of rock 'n' roll, Arai also began importing guitars, including Framus models from Germany.
During the early '60s, the company expanded into production of its own guitars, beginning with acoustic and hollowbody models in 1960, followed by the introduction of solidbody electric guitars in 1963, issued under the brand names of Aria (an anagram of Arai) for the solidbody electrics and Aria Diamond for hollowbodies and basses. Soon the company began exporting guitars to various countries, including the United States.
(Image credit: Courtesy of Aria Guitars)
As demand grew, Aria contracted Matsumoku Industrial, a woodworking company based in Matsumoto, Nagano, to produce Aria guitars. Matsumoku previously built cabinets for Singer sewing machines as well as cabinets for televisions and home audio products for various companies, but after Singer moved cabinet production to the Philippines during the early '60s, Matsumoku shifted its focus to musical instrument manufacturing.
When Beatlemania blossomed all over the world around the same period, Aria started manufacturing violin-shaped guitars a la Paul McCartney's Höfner 500/1 bass.
In 1968, Aria introduced its popular 1532T solidbody, featuring a radically angular offset body design inspired by the Fender Jaguar and Jazzmaster. Thanks to its success, the company introduced more new models, including the 1702T (a Mosrite Ventures copy identical to the Matsumoku-built Univox Hi-Flyer model played by Kurt Cobain), the R-320 (a Rickenbacker 360 copy) and the Aria Diamond 1412, a violin-shaped 12-string hollowbody electric.
During the late '60s, Aria/Matsumoku began manufacturing Les Paul copies, which motivated several other Japanese guitar makers like Fujigen Gakki (Greco, Ibanez) and Tokai to follow suit.
(Image credit: Courtesy of Aria Guitars)
Eventually dozens of Japanese manufacturers followed Aria's lead and produced and exported a wide variety of inexpensive copies of various American guitar models that sometimes were of comparable or arguably better quality.
When Norlin/Gibson threatened to sue Hoshino for trademark infringement, Aria and the other offenders cautiously shifted focus to developing original new designs for the export market while continuing to also produce copies for domestic sales.
Aria began its most prolific decade-long period in 1976 with the introduction of its flagship Aria Pro II prototype series. The first Aria Pro II model – the PE-1500, featuring a modified Les Paul-inspired single cutaway maple/mahogany/maple body with hand-carved arched single-piece top and back, innovative heel-less cutaway, two black-bobbin DiMarzio Super Distortion humbuckers and Antique Violin finish – hit the market the following year. The model proudly showcased Aria's painstaking dedication to developing a high-end electric guitar aimed at the professional market.
Nobuaki Hayashi, a young chief designer for Matsumoku who went under the pseudonym of H. Noble, conceived numerous Aria Pro II designs (including much of the PE-1500), many featuring "Designed & Approved by H. Noble" stamped on the headstock. Over the years, guitar collectors have increasingly sought models that bear his name. Hayashi left the company in the late '80s to start Atlansia Guitars, a boutique guitar and bass company in Japan.
The PE-1500 was a well-received success. Further models followed, starting with the PE-800 in 1978 and the PE-600, PE-500 and PE-400 in respective order over the next few years. Each new model offered improvements, such as the materials used, functionality and decorative aspects such as bindings.
Aria Pro II PE guitars were soon seen with guitarists like Neal Schon of Journey, Andy Summers of the Police (notably in the Police's 1978 performance of Can't Stand Losing You and Next to You on England's The Old Grey Whistle Test TV show) and Gerry Cott of the Boomtown Rats.
Henrik Flyman, guitarist with Scandinavian metal band Evil Masquerade, is a life-long dedicated Aria Pro II PE player who has kept the model relevant in the new millennium.
"I got my PE-1500 back when guitars were supposed to be brightly colored and oddly shaped," Flyman says.
"I found it collecting dust in a corner of the local music shop because guitars like that were not in high demand. I was originally looking for a Gibson Les Paul, but when I tried the PE-1500 I realized it was a much better fit. The deep cutaway and lack of a heel where the neck joins the body was a big bonus that made it a lot better than the Gibson. It was much easier to reach the higher notes, especially on the lower strings. I brought it home that day and have played it ever since."
Shortly after the first Aria Pro II guitar model hit the market, the Aria Pro II SB (Super Bass) made its debut in the late '70s. The flagship SB-1000 quickly became a mainstay for players such as Cliff Burton (Metallica), John Taylor (Duran Duran) and Cronos (Venom). During the '80s, Michael Anthony (Van Halen), Jack Bruce and Rudy Sarzo (Whitesnake) were often seen playing an Aria SB bass on stage. Current Metallica bassist Robert Trujillo often plays an Aria SB when performing the band's Cliff Burton-era material.
American jazz great Herb Ellis became the company's first high-profile endorser in 1978. The PE-175 Herb Ellis model, an archtop electric heavily inspired by the Gibson ES-175, remained in production until the late '80s.
Between 1978 and 1982, the company produced the Aria Pro II Rev-Sound series models (RS-850, RS-750, RS-600 and others), which featured neck-thru-body construction with laminated multi-layer maple and walnut necks and active electronics (RS-850 and RS-1000Z only). The Rev-Sound models resembled Alembic and Ibanez Musician "hippie sandwich" models that were popular during the late '70s.
Aria Pro II offerings grew during the early '80s with the additions of the Cardinal series (CS) and Thor Sound/Tri-Sound (TS) models, which offered bolt-on, set and neck-thru-body models. Demand for Super Strat guitars increased as heavy metal became more popular, and Aria responded by releasing the Aria Pro II RS Esprit in 1983, which was a much more streamlined version of the RS-850. The RS Esprit was briefly the guitar of choice for Yngwie Malmsteen during his stint with Alcatrazz from 1983 to 1984.
George Lynch briefly played the similar Aria Pro II RS Knight Warrior in 1984 and was photographed with the guitar on the back cover of Dokken's Tooth and Nail.
"I never had an endorsement offered to me before," Lynch says. "I was extremely excited about getting a guitar and being promoted through a guitar company. Aria offered me one electric and one acoustic guitar, so I picked what I thought was the most upscale and coolest-looking guitar in their catalog, along with whatever acoustic guitar they offered me.
"I used the Knight Warrior to play exactly one note – which was a dive bomb at the end of some solo – on Tooth and Nail. The Aria acoustic, on the other hand, was used for all the acoustic work on that same record, including Alone Again. To be honest, my interaction with the Aria Pro II was very limited and only for a short period of time while recording the album at Cherokee studios."
Aria's devotion to heavy metal-inspired designs expanded with the introduction of the Flying V-style Aria Pro II XX (including the rare XX-MS Michael Schenker signature model, which was his first signature V), Explorer-style Aria Pro II ZZ and Aria Pro II Urchin series, which resembled the B.C. Rich Stealth.
When Matsumoku shut down its factory in 1987, Aria moved its primary guitar manufacturing efforts to Korea and outsourced production of several models to other factories in Japan. During the '90s, new models were added to the PE series such as the PE-SP and PE-DLX, but Aria Pro II guitars suffered a decline in popularity and sales.
The slim, compact, modern design of the new SWB series upright electric bass guitars featuring a Fishman custom bridge piezo pickup and active tone circuitry helped Aria maintain respect as an innovator, and the company still offers SWB basses today.
From 1995 to 1999 Aria produced the Strat-style Aria Pro II FL (Fullerton Series) line, which were made in Korea with the exception of the top-shelf USA-made FL-50S and FL-60H. Several of the models featured Wilkinson vibratos, Seymour Duncan pickups and Sperzel tuners.
Because the American instrumental guitar group the Ventures remained hugely popular in Japan ever since the entire band first toured there in 1964 (Bob Bogle and Don Wilson previously played in Japan in 1962, but as a duo) and kicked off a boom in guitar sales, Aria joined forces with the group in 1991 to offer the first Ventures signature model instruments made exclusively for the Japanese market.
In 1999 Aria released a new upgraded version, and in 2001, 2002 and 2003 Aria introduced Ventures signature models also sold outside of Japan, including in the U.S. Aria's Ventures models were heavily inspired by the Mosrite Ventures guitars endorsed by the group from 1963 through 1968.
As the company moved into the 21st century, the Aria Pro II brand name changed to simply Aria in 2000 for the overseas market while Pro II remained a Japan-only product. However, as the new millennium progressed, reignited interest in the earlier Aria Pro II models inspired the company to revive the Aria Pro II name in all markets by 2013.
(Image credit: Courtesy of Aria Guitars)
In 2011, Aria released the Retro Style Series, which includes the Retro 1532, a recreation of the original 1532T issued in 1968. In 2020, Aria launched the completely new JET series of guitar, baritone and bass models featuring a distinctive offset single cutaway body design. Due to popular demand, the company added the Hi-Flyer-style DM-206 guitar and DMB-206 bass to its Retro series in 2021.
Recently, Aria introduced the Hot Rod Collection based upon the popular American-made Aria Fullerton guitars from the '90s. These guitars emphasize the U.S. connection through models named after American cities or neighborhoods and their respective phone area codes, such as the "714 Fullerton," "615 Nashville" and "212 Bowery." Made in Japan, the Platinum Collection revives the SB-1000 bass and several PE models including the beloved PE-1500, plus the TA-Tonic thinline semi-hollow electric.
As Aria enters its sixth decade, its passion and dedication to guitar making remain as strong as ever. "Whatever happens, people always love to listen to and play music," says Kazuyuki Miyamoto from the International Sales Division at Aria Guitars in Japan. "We want to keep encouraging people to play and create music by providing attractive instruments at a reasonable price."
TAB-CLASSIC




reviewed by




RUMBLIN MAN Channel
THE COMPLETE SEMI-HOLLOW CHARACTOR
WITH AUTHENTIC VINTAGE VIBE
__________________________________________________________________________
The new excellent PE 590 AF - COMING SOON!
________________________________________________________________
The Fet T1 & M1 have different woods, check them out here:
'Aria took to the stage'
If you came along to 'The Guitar and Bass Exhibition' on the 1st & 2nd April 2022, you would have seen
an impressive arrange of Guitars and Basses on show. More than any other exhibitor!
Thank you to those that came along and said 'Hi'
BRAND NEW ARIA DMB 206 Bass
Delta Player 131DP.
Aria's 615 GH - Nashville
Reviewed by: "Dainty"
Aria's 718 MKII - Brooklyn
Reviewed by: "Electric Guitar Review"




Check out these new products
Aria JET B'tone




The brand new 'Little' acoustic guitar






The new ARIA DM 206 - Independent review below by Nick Jennison



Aria Pro II "JET-1" was reviewed by Guitar Interactive Magazine.
JET series offer unique off-set shape body with truly versatile palyability and tone.
JET-1, JET-2, and JET Bass are available.
To read full review please visit https://www.guitarinteractivemagazine.com/ and check for issue 75.
Thank you Guitar Interactive and Nick Jennison!
SPOTLIGHT
Steph Staps
Aria is the UK distributor for the Steph Strap brand.
Excellence in Craftsmanship with Steph Accessories, providing musical instrument accessories to distributors across the globe since 1984.

"Excellence in craftsmanship" has been our motto ever since we first began producing our leather Steph Guitar Straps for musicians long ago, in 1984. This means we spare no effort and leave out no expense in making our guitar straps the best they can possibly be – each one tooled with care and attention and created with pride for our customers and for their needs.
Aria Pro II

718-MK2

– Brooklyn – was reviewed by Guitar Interactive Magazine.

718-MKS was launched at NAMM 2020 as a part of the latest "Hot Rod Collection".

To read full article please visit www.guitarinteractivemagazine.com and check for issue 73.

Thank you Guitar Interactive and Nick Jennison!



HOT ROD COLLECTION was successfully launched at NAMM 2020.
The Hot Rod collection:
714 MK2
615 MK2
718 MK2
714 JH
615 GH
313 MK2
313 MK2/5
free website counter